Shawnee Karst Preserve Expansion
Our latest acquisition project
The IKC is in the process of expanding our 50.3-acre Shawnee Karst Preserve near Mitchell, Indiana with the purchase of an additional 17.5 acres located on the north side of the original tract. Closing is expected before the end of September. This expansion will nearly double the amount of Upper Twin Cave passage directly under IKC-owned land, and greatly expands the main stream passage protected between the IKC entrance and the downstream boat dock entrance in Spring Mill State Park. The expansion tract also contains the largest room in the Upper Twin Cave (see below).
It is believed that Upper Twin Cave has the largest population of the Indiana cavefish (Amblyopsis hoosieri) in the world. The expansion property also has one small (~100' long) but interesting cave that is hydrologically associated with Upper Twin Cave. As with the adjacent original tract, this new acquisition has numerous large sinkholes and many other karst features.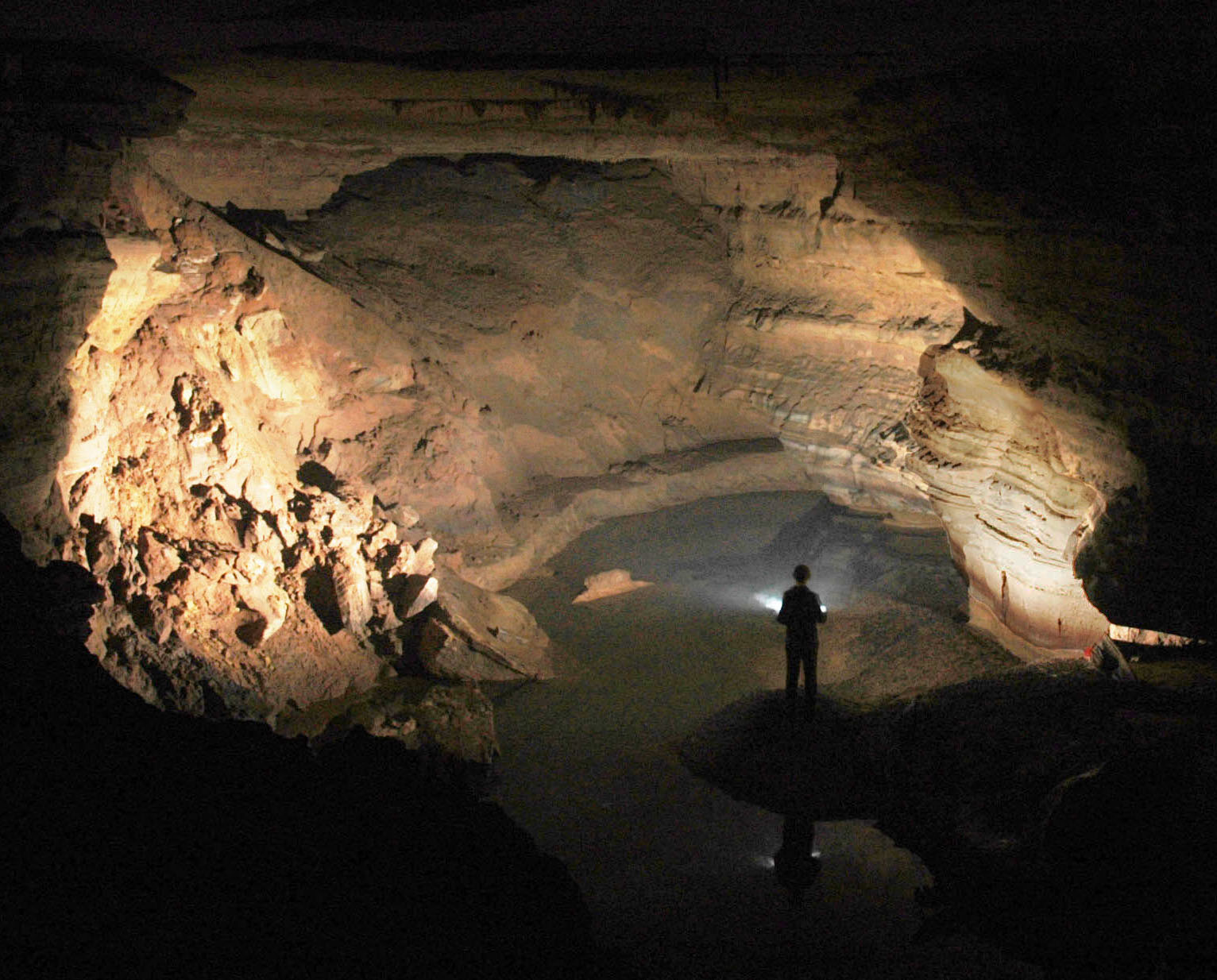 The surface of this property is currently a mixture of mature forest with considerable tree diversity and open field, some with native warm-season grasses (perhaps a remnant of an old prairie or glade). While the long-term stewardship plans for this expansion has not been finalized, encouraging the native grass areas and some native tree planting are likely. Prior to the acquisition of the property, two homes were demolished, eliminating two septic systems (one directly over Upper Twin passage that had reportedly "failed"). The new property does have a nice functional "pole barn" that can be used for storing IKC equipment and supplies. The Management Plan for the expanded Shawnee Karst Preserve has not yet been revised, but will likely be similar to the original plan.
The IKC is proud to expand this preserve and is grateful to everyone who has contributed to this new acquisition. Additional money received for Shawnee Karst Preserve will be placed in a dedicated fund for cave resource stewardship and to acquire other karst properties in Indiana. Such tax-deductible donations may be made online using PayPal or any major credit card, or you can send us a check by mail as indicated below:
Shawnee Karst Preserve
c/o Indiana Karst Conservancy
PO Box 2401
Indianapolis, IN 46206-2401
Please make your check payable to the "Indiana Karst Conservancy."
For more information or to arrange a visit to this property, please contact:
Jerry Lewis
Shawnee Karst Preserve Property Manager
E-mail: lewisbioconsult@gmail.com