We have a new t-shirt design!! Go to https://stores.inksoft.com/ikc to pick up some cool swag and help raise money for the IKC. This store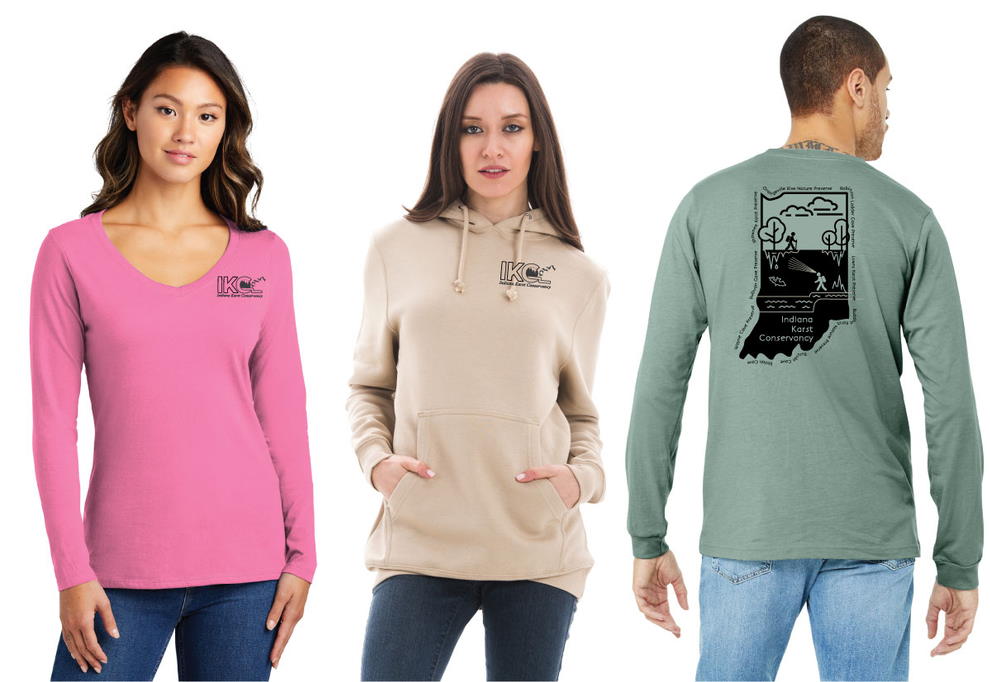 will remain open until 11:59pm July 24th at which time it will close and Organic Robot Designs will process the orders that have accumulated. Organic Robot Designs is a caver-owned, local Indiana business we are happy to support and excited about this fundraiser. In the shopping cart you can choose to pick up your items at Indiana Cave Capers registration, the September 11th IKC Meeting (in Bloomington), the Organic Robot Designs store in Greenfield, IN, or pay a little extra and have it shipped to your door. Organic Robot Designs is donating 25% of each sale (minus tax and shipping) to the IKC so this is a great way to help out the IKC and have fun doing it. Thank you for your support and have fun shopping!
The Mid-States Corridor study project's Draft Environmental Impact Statement comment period ended June 14th. The IKC submitted formal comments mostly pertaining to Route M and Route O, but did have some comments related to the chosen preferred Route P. We expect the final EIS and a Record of Decision to be issued later this year. There seems to be a lot of grassroots opposition to another new-terrain highway and hopefully the already announced upgrades to US 231 will satisfy proponents such that the detailed, Tier 2 study does not occur.
Covid-19 Update: IKC preserves are currently open. If you visit a preserve, ensure that you follow CDC, state and local guidelines to prevent the spread of infectious diseases and practice Leave No Trace principles. As this situation is ever-changing, the IKC may open and close preserves as required.
Following these guidelines will not guarantee infection prevention.
If you choose to visit an IKC preserve, keep in the mind the following:
If you are sick, stay home. Guests should self pre-screen and if you are within a high-risk population, please consider staying home for your own safety.
Please follow all current CDC guidelines as they pertain to unvaccinated and vaccinated individuals.
Join the IKC: We can now accept your membership application and dues payment online! Click the Join Us! menu item above for more.
Indiana DNR has reopened caves in both Spring Mill State Park and in Cave River Valley for recreational caving by groups on an interim basis. Groups wishing to gain access must apply for a permit and comply with proper WNS decontamination protocols. Click here for details.
---
IKC membership brochure (923k PDF file)
Back issues of the IKC Update online
Our sinkhole management flyer (321k PDF file)
Indiana Bats, Kids and Caves -- Oh My!, an activity book for teachers
Purchase IKC promo items. Proceeds go to the land acquisition fund.