Sinks of Indian Creek
Conservation Easement on Sinks of Indian Creek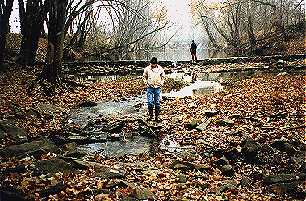 The Sinks of Indian Creek are the primary recharge for the largest spring in Indiana, Harrison Spring. Therefore, protection of the water quality at the Sinks is critical for the welfare of surface biology at both sites, as well as any aquatic life in the subterranean passages. The property also contains a low dam and other drainage modifications performed by the Civilian Conservation Corps in the 1930s in an attempt to circumvent the sinks. Although their attempt proved futile, the remnants of their work has some historical significance. When the property recently changed hands, the Nature Conservancy of Indiana recognized these values and -- having an office local to the site -- pursued a conservation easement to ensure that the proposed housing addition would have minimal impact of the Sinks.
On January 13, 1997, an easement for about 13 acres of the bluff and creek bed was obtained; along with an access easement to allow monitoring activity. Actions were immediately initiated to transfer these easement(s) to the IKC. In the ensuing three years, two joint TNC/IKC workdays were held on the property clean up a trash dump on the upstream bluff. On April 14, 2000, the transfer was completed; the documents were recorded in Harrison County the following month.
Baseline document
Assignment document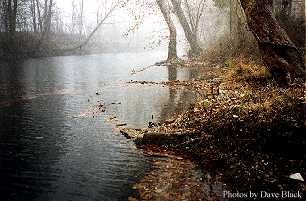 It's important to understand that the IKC does not own this property -- legally, we can only monitor it and ensure that the covenants of the easement are being followed. The IKC also cannot grant visitation privileges. However, the IKC will appoint someone to oversee the property; and the effort to clean up the rest of the trash on the property will undoubtedly continue. The IKC will also vigorously enforce the easement and take appropriate action against any violations.
The IKC would like to again thank The Nature Conservancy for their quick action to secure the protection of this significant karst property.