Sullivan Cave
Our First Nature Preserve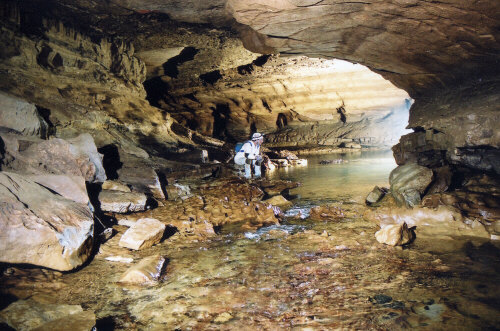 On October 27, 1998, the IKC took possession of Sullivan Cave. The IKC is proud to own this significant cave resource and is very grateful to everyone who contributed. We would like to particularly recognize the following people and organizations who donated $5000 or more: the Central Indiana Grotto, the National Speleological Society, the IPALCO Golden Eagle Grant program, and Richard Blenz of Bloomington. These major donors were a great help in putting us over the top.
Although the IKC is no longer actively soliciting donations for Sullivan Cave, funding is needed for ongoing stewardship and maintenance of this property (see more photos). Additional money received for Sullivan will be placed in a dedicated fund for this purpose and to acquire other karst properties in Indiana. If you still wish to make a tax-deductible* donation, please send your check to the following address:
Land Acquisition Fund
c/o Indiana Karst Conservancy
PO Box 2401
Indianapolis, IN 46206-2401
Please make your check payable to the "Indiana Karst Conservancy." Online donations may also be made using PayPal or any major credit card.
For cave access requests, please contact:

Paul Uglum, Cave Patron
926 Queensbury Drive
Noblesville, IN 46062
E-mail: SullivanCave@gmail.com

Questions or suggestions about the preserve may be directed to:

Joe Kinder, Property Manager
3845 E 78th St
Indianapolis, IN 46240
E-mail: KinderJoe@yahoo.com
Members of local NSS grottoes may also arrange access through their grotto liaison. Management policies can be found in the property management plan.
Sullivan Cave and the IKC appreciate your support!
*The IKC is a 501(c)(3) not-for-profit organization.